We are the original Sperry Tents office
Established in 1996, Sperry Tents Marion has over 30 years' experience making outdoor weddings and events in Metro Boston, the South Shore, South Coast, Cape Cod, Rhode Island, and eastern Connecticut as luxurious and seamless as possible.
A sailcloth Sperry Tent is the most coveted wedding tent available today: it's beautifully designed, with a luxurious feel. Renting a Sperry Tent makes any outdoor wedding or event supremely elegant and truly memorable.
We specialize in creating customized venues from scratch – across beautiful Southern New England, in fields and backyards, on farms and beaches, and everywhere in between – with authentic Sperry Tents. When up-close detailing and superior aesthetics are important, Sperry Tents is a natural choice.
We look forward to working with you on your dream wedding or special occasion. To get started, find the right sailcloth Sperry Tent for you. Image by Brian Leahy Photography
Luxury Loo® Restroom Trailers
We are the Exclusive Provider of Luxury Loo® Restroom Trailers.
These in-demand, uber-elegant trailers single-handedly changed the world of portable restrooms when they first launched in 2009. Luxurious inside and charming outside, they are the perfect choice for any luxury event – no tent required.
Sometimes your own backyard is the best wedding venue of all. We love backyard weddings because they are all about you: your family, your traditions, your stomping grounds. If you've decided to forgo a venue and get married at home, you've come to the right place.
Not only do we provide the industry's most elegant rental tent, we also excel at creating outdoor venues from scratch, a feat that involves not just tents but also tent sides, dance floors, stages for live bands, and under-tent lighting. Olus practical concerns like fans, heaters, generators, and outdoor restrooms. Luckily for you, we do it all! And the final result will wow, no matter your guest count. Image by Lynne Reznick Photography
Tent Rentals for Weddings.  When Elegance Matters.
Your wedding tent is not just a practical cover for rain and sun: it is your venue; it needs to impress. You want your rental tent to be as elegant and attractive as possible, holding up to the scrutiny of guests, the flash of a professional camera, and of course your own high standards. It is vital to choose a handcrafted Sperry Tent when aesthetics matter most.
From the picturesque coastal towns south of Boston, to the beaches and summer properties of Cape Cod, to the unspoiled coastline of Rhode Island and Eastern Conn., we tent at a variety of top-rated wedding venues and resorts as well as private residences. Whether you've chosen a venue or your own backyard, our experienced event coordinators are here to walk you through the planning process. Image by Joe Mikos Photographers
Quality Sailcloth Tents
The Sperry Tent is like no other tent on the market.
The first one was designed by sailmaker Steve Sperry using the tools he had on-hand in his sail loft in Marion, Mass. He employed his artistic eye, fabric know-how, and even his own personal sawmill to craft the parts for the first-ever Sperry Tent, unwittingly starting a revolution in the look and feel of event tents. Other manufacturers responded and tried to mimic us, but their versions are still made from vinyl, not sailcloth. Our sailcloth canopies are lyrical, breathable, and translucent, resulting in that unmistakable #sperryglow at night that is so Instagram worthy. Image by Corinna Raznikov Photography
 "Our tent was GORGEOUS and Sperry Tents Marion was so easy to work with! We compared other tent companies and Sperry came out on top in terms of quality and aesthetics as well as what you get for your dollar. Rob met with us several weeks prior to the event at our venue to map out the tent which was so helpful. He even provided a visual diagram of the space to show how the tent would fit which made planning out the rest of the floor plan so easy. Together, we even created a "sun" and a "rain" plan (and thankfully didn't need the latter). I am so glad that we chose to work with Sperry Tents and I would choose them again in a heartbeat!"
– Amanda, 5-Star Knot Review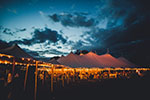 "So glad I got Sperry Tents for my wedding! Cannot recommend them highly enough. The tents are absolutely gorgeous. Our guests were floored by how classy it made a backyard wedding. Lots of our guests came up to us and said it was the best wedding they had ever been to and the tents were a huge part of that. We also loved how closely Sperry was willing to work with us to get the correct size and layout in a nontraditional hilly New England backyard. Setup and break down went smoothly. We got onion lamps in one tent and the string lights in the other. The string lights were really magical for the dance floor. The onions were good for better lighting during dinner. Communication with Sperry was incredible – my emails were all answered within 24 hours. And so thankful for that last minute flexibility in the last few days before the wedding when the forecast kept switching. Yes, Sperry tents cost a bit more than the cheapest tents out there but it is worth every penny."
– Lisa, 5-Star Knot Review