"Our tent was GORGEOUS and Sperry tents was so easy to work with! We compared other tent companies and Sperry came out on top in terms of quality and aesthetics as well as what you get for your dollar. Rob met with us several weeks prior to the event at our venue to map out the tent which was so helpful. He even provided a visual diagram of the space to show how the tent would fit which made planning out the rest of the floor plan so easy. Together, we even created a "sun" and a "rain" plan (and thankfully didn't need the latter). I am so glad that we chose to work with Sperry Tents and I would choose them again in a heartbeat!"
– Amanda, 5-Star Knot Review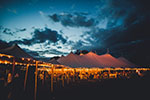 "So glad I got Sperry Tents for my wedding! Cannot recommend them highly enough. The tents are absolutely gorgeous. Our guests were floored by how classy it made a backyard wedding. Lots of our guests came up to us and said it was the best wedding they had ever been to and the tents were a huge part of that. We also loved how closely Sperry was willing to work with us to get the correct size and layout in a nontraditional hilly New England backyard. Setup and break down went smoothly. We got onion lamps in one tent and the string lights in the other. The string lights were really magical for the dance floor. The onions were good for better lighting during dinner. Communication with Sperry was incredible – my emails were all answered within 24 hours. And so thankful for that last minute flexibility in the last few days before the wedding when the forecast kept switching. Yes, Sperry tents cost a bit more than the cheapest tents out there but it is worth every penny."
– Lisa, 5-Star Knot Review
 "By far the most gorgeous tents around. The beautiful sail cloth tents created an absolute magical look and feel to our September backyard wedding. We also rented the lighting and dance floor from them and both were top notch. We had beautiful amber lighting inside the tent, creating such a perfect ambiance. The tent included someone onsite for the duration of the event in case of anything the tent would need which was so reassuring. The attendant was great (as the bride, I never even saw him!), and he even dimmed the lights at the request of my husband once the dancing was in full swing. Definitely worth the money for the best out there!"
– Elissa, 5-Star Knot Review
 "We were delighted with the sail tent for my daughter's recent wedding. Choosing a Sperry Tent was easy for us, as my niece was married at the same location, with a gorgeous Sperry Tent, so we knew we would be happy with the result. It turned out that our tent was more complicated as it was larger than my niece's tent and had to fit between the underground water line and underground septic line, with only inches to spare, and over a clump of bushes. Mike came out to the property at least 3 times (no extra charge) to be sure that we could safely place the tent where we wanted it. The installation was flawless, and the removal was as well. We purchased colored lanterns to use instead of the white lanterns we could have rented from Sperry, and Sperry installed them for us beautifully. We couldn't have been more pleased with the entire experience."
– Susan, 5-Star Wedding Wire Review
Gorgeous tent and Great Service
We used a Sperry Tent for our wedding at a private residence on Mason's Island, CT, and they provided a beautiful tent and great service. Another company said they could only do a frame tent (much less attractive), but Sperry was creative and figured out how to do a their signature sailcloth tent with a "Sperry Arch" for the band. The arch only made it more stunning. The team from Mystic was on time and extremely considerate. When they showed up to take down our tent, we realized that the other rentals weren't schedule for pickup until the next day, which was a problem because we couldn't leave them out without the tent. Sperry agreed to leave the tent up and come back the next day, saving us from a major problem. – Margot S.
Magical! Gorgeous tent and professional team!
We had our wedding of over 200 people at my family home on Cape Cod, and it was hard for me to imagine how the property where my family and I hang out in our swim suits and sweats would transform into an elegant, black tie venue, and then I saw the Sperry Tent going up. It was STUNNING. Absolutely magical and completely gorgeous. It was classy, elegant, and simply beautiful. I wanted to stand in that tent forever! It didn't take away from the view on the property at all, in fact it added to it, seemingly framing the horizon. The team was also incredibly professional and had their system down! It took them 4 days to build the tent and the full wood floor, but they were incredibly professional the entire time, and worked each day to bring our vision to life while being mindful of the property and not to do anything to harm the lawn, or nearby buildings. Thank you all so much for helping make our dream weekend a reality! The tent was absolutely gorgeous and I wish we could have one on the property all the time! Thank you!!
"Our tent was amazing- it looked like something out of a fairy tale! It was so pretty and the perfect size. Sperry Tents was easy to work with. We added heaters to the tent at the last minute, and they were able to make it happen."
– Beth, 5-Star Knot Review