Our small-scale, one-of-a-kind Petite Luxury Loo® has charming French blue doors and a detailed interior. The women's room has two stalls and one sink. The men's room has an individual stall, one urinal, and a single sink.
PLEASE NOTE: Unless you choose our upgrade package of mini boxwoods, your Loo will arrive with an empty flower box. You or your florist are welcome to fill the box, but it's important that you DO NOT add loose soil, as it is too heavy. Plastic pots and cut flowers/greens only. The box's dimensions are: 5 feet long, 8.5 inches deep, and 8 inches wide.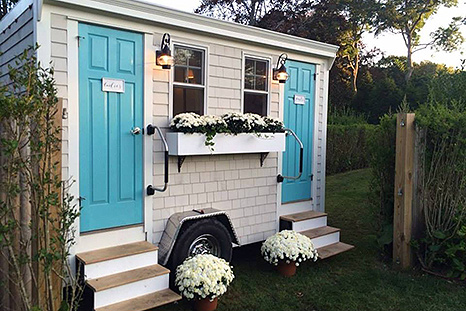 Add-on Amenities
Elevate your guests' loo experience with toiletries for every imaginable need, elegant landscaping, and more.